Eyelash Extensions San Jose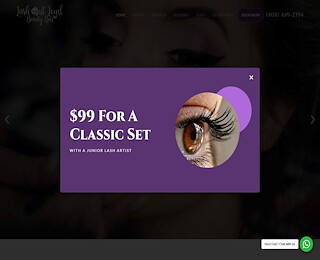 Lash extensions offer that dramatic look by adding volume to the normal lash line. With professional application, your face can achieve an absolutely gorgeous transformation. You've probably heard or read about the good and the bad about eyelash extension in San Jose. Like in most cosmetic procedures, there are some risks involved. For instance, itchy or infected eyes can be a result of unsafe products or poor application methods. That is why it's advisable to seek top-of-the-line eyelash service in San Jose, CA, from leading beauty bars like ours at Lash Out Loud Beauty Bar.
5 Reasons to Choose Us for the Best Eyelash Extensions
Here's why we're the go-to for all your eyelash extension needs.
Technicality and Experience
At Lash Out Loud, we pride ourselves on our process of adding new team members. We focus on technicality and creativity, but above all, merit and experience. Additionally, our lash artists have been trained in aesthetics and cosmetology and certified by renowned lash education programs. So, with us, you're sure of getting qualified San Jose eyelash extensions specialists.
Professional and Honest Services
Our lash extension services go beyond beauty; we start with a consultation. Although most first-timers don't expect a consultation, our priority is your safety.
We are honest, and we'll inform you beforehand of any potential risks. Even the safest procedures, like eyelash extensions, have possible risks, though quite rare. For example, lash adhesive can cause allergic reactions to a very small percentage of our clients. And while rare, there may be conditions that affect eyelashes in San Jose, California, that will require us to forgo the procedure.
Artistry
San Jose, CA eyelash extensions are meant to make you flawless, striking, and confident. That is our mission. So, whenever you visit us, never be afraid to ask for our previous clients' before and after photos, where you'll get to see our unexcelled techniques. Further, we deliver consistency in terms of quality and style. We make sure you're satisfied with the results before leaving.
Safety, Cleanliness, and Organization
We always keep our workspaces clean and sterile. All non-reusable materials are thrown away immediately, and the reusable ones are sterilized between clients. We value your safety.
You probably have an idea about how you want your extensions. The beauty of extensions is that they come in different curls, sizes, lengths, and more. This means you can easily achieve your unique look that matches your personality and eye support. Getting the right lashes is essential; otherwise, heavier extensions can damage your natural eyelashes.
That is the reason our professionals have honed the delicate art of finding the perfect match for your eyes, face, and overall personality. To us, preserving the beauty of your natural lashes is paramount.
Make Us Your Beauty Partner
Have you been searching for the finest eyebrows and eyelash extensions in San Jose? Look no further than our chic beauty bar. Our aim is to enhance the beauty, personality, and self-confidence of our guests. We'll give you the eyebrows and lashes near San Jose, you've always desired. So schedule your first appointment today and experience beauty done right. Contact us https://lashoutloudbeautybar.com/get-in-touch/.