Craniosacral Therapy Near Me Olympia WA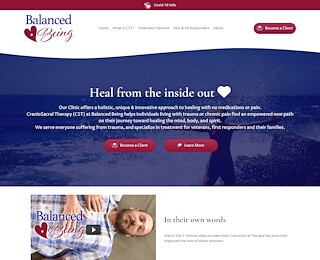 At Balanced Being, we understand the struggles of finding effective, non-invasive therapy. Chronic pain, stress, emotional imbalances are but a few issues that plague our daily lives. In response, we proudly specialize in Craniosacral Therapy in the Olympia, WA area, a gentle treatment option providing relief and fostering wellness.
In our quest to offer therapeutic solutions, we discovered the transformative potential of Craniosacral Therapy. We observed remarkable improvements in our clients' lives, which reinforced our commitment to making this healing art available to the broader Olympia community. We are passionate about fostering holistic health, and that's precisely what Craniosacral Therapy offers – a holistic path to wellness, dealing with body, mind, and spirit.
Exploring Craniosacral Therapy
Craniosacral Therapy (CST) is our guiding passion. This therapy involves delicate hands-on techniques, centering on the craniosacral system encompassing the brain and spinal cord's membranes and fluids. Founded by osteopathic physician John E. Upledger, CST has progressively gained acclaim for its potent healing effects.
At Balanced Being, we genuinely believe in your body's innate power to heal itself. Through slight manipulations of the skull and spine bones, our proficient therapists can release tensions, enhancing the central nervous system's functionality. Each session at our facility is a tranquil experience, aimed to balance your craniosacral system with utmost care.
Benefits of Craniosacral Therapy
Our therapists have utilized CST to enhance a range of health aspects. Firstly, it can help reduce chronic pain. CST provides significant relief from chronic discomfort, addressing the root cause rather than treating isolated symptoms.
Secondly, CST is effective in reducing stress and anxiety levels. By manipulating the craniosacral system, we can help your body release stored emotional tension, which often manifests as physical symptoms.
Thirdly, CST can improve sleep. The gentle touch and stress-relief provided by CST can enhance your sleep quality by promoting deep relaxation and resetting your body's natural sleep-wake cycle.
Why Location Matters
The power of local therapeutic services lies in the invaluable relationship between client and therapist. As such, our Olympia, WA location plays an instrumental role in the care we deliver. Being local fosters a sense of trust, community, and continuity in the healing process.
Our locality simplifies accessing emergency appointments and arranging regular follow-up sessions. Eliminating lengthy commutes and supporting regular visits, we provide a level of consistency and convenience unique to local therapy centers.
Our community presence also extends beyond the confines of the therapy room. We actively participate in local health and wellness events, sharing valuable knowledge and fostering a community focus on wellbeing.
Balanced Being: Your Local Experts
Our team at Balanced Being is unequivocally committed to excellence in CST. With our certified experts specializing in this gentle therapy, we proudly stand out as a premier provider in Olympia, WA.
We offer more than just a treatment; we deliver a holistic wellness experience. Our emphasis on empowering you to take control of your health is woven into every aspect of our service.
Our dedicated practitioners ensure that the therapy process is smooth and comfortable. Their proficiency in CST coupled with an understanding approach fosters a nurturing environment, optimizing the therapeutic outcomes.
The ease of access to our local services ensures consistent and supportive care, facilitating your journey to wellness.
Frequently Asked Questions
What can I expect during a CST session at Balanced Being? Our CST sessions are personalized and relaxed, typically spanning 60 to 90 minutes. Each session is designed around your unique needs, guided by our team's expertise. From the calming ambiance to the gentle touch of our therapists, every detail is geared towards your comfort and healing.
Is CST suitable for my child? Yes, CST is suitable for children of all ages, including infants. Its gentle, non-invasive nature makes it a preferred option for addressing a variety of childhood conditions. Our therapists have specialized training in pediatric CST, ensuring safe and effective treatment.
How many sessions will I need? The number of sessions required is unique to each individual. During the initial consultation, we assess your specific needs and develop a tailored treatment plan. Our goal is to facilitate your healing process, be it through a single session or multiple.
What are the costs involved? We are committed to making CST accessible. Hence, we offer a range of pricing options to accommodate varying budgets. Our comprehensive packages ensure you can benefit from ongoing care without the stress of financial constraints.
Understanding the Craniosacral System
The craniosacral system, the therapy's namesake, is a physiological system that encompasses the brain, the spinal cord, and the cerebral spinal fluid that bathes them. This vital system influences the functioning of a significant portion of the nervous system. Its health and balance are, therefore, integral to your overall well-being.
Through the use of light touch, Craniosacral Therapy aims to detect and correct imbalances within the craniosacral system. By doing so, it helps your body restore and maintain a healthy state, contributing to improved functioning of the nervous system and the body as a whole.
The Balanced Being Experience
At Balanced Being, we're more than just a therapeutic center – we're a haven for holistic healing. From the moment you step into our space in Olympia, WA, we strive to make your experience as comfortable and beneficial as possible. Our rooms are designed to promote relaxation, facilitating the healing process.
Our skilled therapists are trained to listen intently not just to your words, but also to your body. They take time to understand your health history, your current issues, and your goals for the therapy. This detailed understanding helps them tailor the therapy to your unique needs, enhancing the treatment's efficacy. With Balanced Being, you're not just another appointment in our calendar; you're an individual on a wellness journey, and we're privileged to guide you along that path.
Search ' Craniosacral Therapy Near Me Olympia WA' & Choose Us
Craniosacral Therapy represents more than a method; it is a journey to balanced living. We offer comprehensive care through this profound healing modality, directly from the heart of Olympia, WA.
Our dedication to personalized care, the power of local accessibility, and the broad spectrum of benefits that CST offers, are all key facets of our service at Balanced Being. With each session, we strive to guide you towards a healthier, balanced life.
As a local expert, we are not only in your neighborhood but in your corner, supporting you on your wellness journey. We invite you to explore the transformative potential of Craniosacral Therapy with us. Contact Balanced Being today and take the first step towards a harmonious and healthy life.
Balanced Being Inc
360-705-1133
221 Kenyon ST NW STE 103
Olympia WA 98502 US